Top pirate leader and 'TFG diplomat' Mohamed Abdi Hassan 'Afweyne'
Report is part of the ICG Report Published Friday july 13, 2012
---
---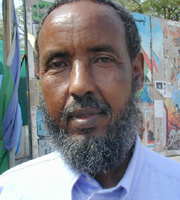 Some pirates also benefit from the collusion and protection of high-level government officials. In early April 2012, Malaysian immigration authorities identified Mohamed Abdi Hassan 'Afweyne',9
one of the most notorious and influential leaders of the Hobyo-Harardheere Piracy Network (HHPN),10 traveling with a Somali 'diplomatic passport' to visit his wife and family living abroad.11 In response to questions about his diplomatic status and the purpose of his trip Afweyne presented the authorities with an apparently official document issued by the Director of the TFG Presidency (Chief of Cabinet), Mohamed Moalim Hassan, with knowledge of TFG President Sheikh Sharif Sheikh Ahmed. The document stated that Afweyne was involved in counter-piracy activities on behalf of the Transitional Federal Government (TFG) for 'Himan & Heeb' region.12
Upon his return to Mogadishu a week later, Afweyne was reportedly summoned to the Presidency. The Monitoring Group has since obtained confirmation of Afweyne's status as a TFG 'diplomat' and corresponding possession of a diplomatic passport issued by TFG-officials with the authorization of Somali President Sheikh Sharif Sheikh Ahmed,
13 implying that 'Afweyne', enjoys protection from the highest echelons within the TFG (see also annex 1.2.).
The TFG President informed the Monitoring Group that Afweyne's diplomatic status was one of several inducements intend to obtain the dismantling of his pirate network.
Top pirate leader and 'TFG diplomat' Mohamed Abdi Hassan 'Afweyne'
8 NATO, EU NAVFOR, CMF-TF151 and independent naval task forces such as China, Russia, India, Iran, Japan,
Indonesia, Malaysia, Thailand, Singapore, South Korea, Yemen and Saudi Arabia.
9 Reportedly on 10 April 2012.
10 Central Somalia, Mudug region
11 Passport number obtained by the Monitoring Group.
ADVANCED COPY - CONFIDENTIAL
Relating Stories